No Man's Sky Update - The Loop
Play Sound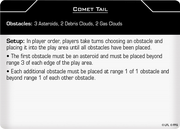 Card Text/Abilities
Obstacles: 3 Asteroids, 2 Debris Clouds, 2 Gas Clouds
Setup: In player order, players take turns choosing an obstacle and placing it into the play area until all obstacles have been placed.
The first obstacle must be an asteroid and must be placed beyond range 3 of each edge of the play area.
Each additional obstacles must be placed at range 1 of 1 obstacle and beyond range 1 of each other object.
Availability