Fire Emblem Warriors: Three Hopes - The Loop
Play Sound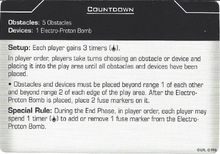 Card Text/Abilities
Obstacles: 5 Obstacles
Devices: 1 Electro-Proton Bomb
Setup: Each player gains 3 timers (marker).
In player order, players take turns choosing an obstacle or device and placing it into the play area until all obstacles and devices have been placed.
Obstacles and devices must be placed beyond range 1 of each other and beyond range 2 of each edge of the play area. After the Electro-Proton Bomb is placed, place 2 Fuse markers on it.
Special Rule: During the End Phase, in player order, each player may spend 1 timer (marker) to add or remove 1 fuse marker from the Electro-Proton Bomb.
Availability