(oops missed one.)

Line 34:
Line 34:
 

==== Missile ====

 

==== Missile ====

 

* [[Concussion Missiles]]

 

* [[Concussion Missiles]]

 
+

* [[Ion Missiles]]

 

* [[Multi-Missile Pods]]

 

* [[Multi-Missile Pods]]

 
 
−

Eight additional unknown upgrade cards

+

additional unknown upgrade cards

 
 
 

=== Tokens ===

 

=== Tokens ===
---
Revision as of 01:47, 2 April 2020
Publisher's Description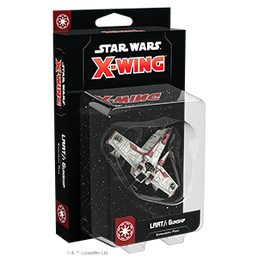 A durable, reliable workhorse capable of serving in a wide array of environments, the LAAT/i gunship is renowned for getting the job done. Whether making precision drops of clone troopers on contested worlds, supporting Republic formations with interlaced fire in atmospheric battles, or engaging starfighters in the depths of space, the LAAT/i can be outfitted for nearly any role or battlefield.
The LAAT/i Gunship Expansion Pack contains everything you need to add one of these sturdy ships to your Galactic Republic squadrons, including a finely detailed LAAT/i Gunship miniature, four ship cards, 14 upgrade cards, and two quick build cards to get your ship directly into the fight.
Included Components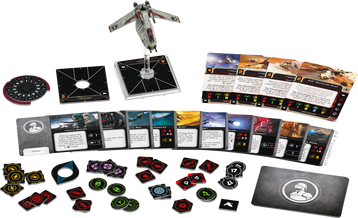 Ships
Pilots
•Initiative 4 Pilot
•Initiative 3 Pilot
•Initiative 2 Pilot
212th Battalion Pilot
Ship tokens are dual sided and have the following front/back combinations:
Upgrades
Crew
Crew and Gunner
Gunner
Missile
Seven additional unknown upgrade cards
Tokens
Charge Tokens (x5)
Critical Hit Token
Deplete Tokens (x3)
Evade Tokens (x2)
Focus Tokens (x2)
Force Tokens (x3)
ID Token #17 (x3)
Ion Tokens (x3)
Lock Tokens #17 (x2)
Reinforce Tokens (x2)
Shield Tokens (x2)
Strain Tokens (x3)
Stress Tokens (x2)
Medium/Large Double Turret Arc Indicator
Dial ID Token
LAAT/i Gunship Dial
Additional Information
Medium Base
Medium Base Pegs (x2)
LAAT/i Gunship Quick Build Cards (x2)
Community content is available under
CC-BY-SA
unless otherwise noted.