Publisher's Description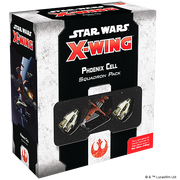 Band together to restore the Republic with the Phoenix Cell Squadron Pack for Star Wars: X-Wing! As an alliance of rebel cells and resistance groups unite in the pledge to overthrow the Emperor, new heroes emerge to take up the fight.
In addition to providing a A/SF-01 B-Wing miniature and two RZ-1 A-Wing miniatures in bold new paint schemes, this Squadron Pack includes early heroes of the Rebellion such as Hera Syndulla and Ahsoka Tano, featuring new abilities and upgrades based on their appearances in Star Wars: Rebels. Stoke the fires of rebellion and add new options to your Rebel squadrons!
All told, you'll find 10 RZ-1 A-wing ship cards and 4 A/SF-01 B-wing ship cards in this expansion, giving you even more pilots to choose from. Additionally, 36 upgrade cards invite you to further customize your Rebel squadrons, including upgrades designed for Epic play. Finally, seven Quick Build cards help you get these pilots and upgrades into the fight as fast as possible with convenient preset selections.
Included Components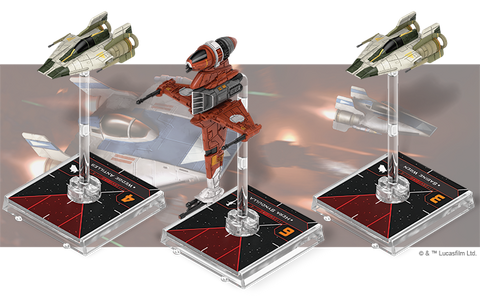 Ships
Pilots
A/SF-01 B-Wing
Ship tokens are dual sided and have the following front/back combinations:
•Hera Syndulla/Blue Squadron Pilot
•Netrem Pollard/Blade Squadron Veteran
RZ-1 A-Wing
Ship tokens are dual sided and have the following front/back combinations:
•Hera Syndulla/Phoenix Squadron Pilot
•Ahoka Tano/Phoenix Squadron Pilot
•Shara Bey/Green Squadron Pilot
•Wedge Antilles/Green Squadron Pilot
•Sabine Wren/Phoenix Squadron Pilot
•Derek Klivian/Green Squadron Pilot
Upgrades
Command
Talent
Force
Sensor
Cannon
Torpedo
Missile
Gunner
Title
Configuration
Tokens
Charge Tokens (x6)
Critical Marker Token (x3)
Deplete Token
Evade Tokens (x3)
Focus Tokens (x3)
Force tokens (x3)
Ion Token
Jam Token
Shield Tokens (x8)
Strain Tokens (x2)
Stress Tokens (x3)
Small Single Turret Arc Indicators (x4)
ID Tokens #11 (x3)
ID Tokens #12 (x3)
Lock Tokens #11 (x2)
Lock Tokens #12 (x2)
Dial ID Token A/SF-01 B-Wing
Dial ID Tokens RZ-1 A-Wing (x2)
A/SF-01 B-Wing Dial
RZ-1 A-Wing Dials (x2)
Additional Components
Small Bases (x3)
Small Base Pegs (x6)
Community content is available under
CC-BY-SA
unless otherwise noted.