No Man's Sky Update - The Loop
Play Sound
Publisher's Description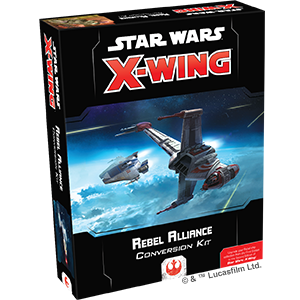 From the blazingly fast A-wing to the iconic Millennium Falcon, the Rebel Alliance fielded a great number of starships during the interstellar battles of the Galactic Civil War. Between the Rebel Alliance Conversion Kit and the extensive catalog of first edition expansions, these ships are available to join your squadron from day one.
Within this conversion kit, veteran players will find all of the components necessary to upgrade their existing Rebel ship collection from the first edition of X-Wing to the second edition. The conversion kit contains a vast array of new ship cards and tokens, including iconic pilots such as Han Solo, alongside more than one-hundred upgrade cards that give you the power to customize your squad to fit your playstyle. Finally, the conversion kit also includes the second edition maneuver dials for each ship, which makes planning your actions easier than ever before.
Contents
Components are provided for the following ships:
3 – A-wing
2 – ARC-170
2 – Auzituck Gunship
2 – B-wing
2 – E-wing
2 – Ghost
2 – HWK-290
2 – K-wing
2 – Millennium Falcon
2 – Phantom I
2 – Phantom II
2 – Sabine's TIE Fighter
2 – U-wing
2 – X-wing
2 – Y-wing
2 – YT-2400
4 – Z-95 Headhunter
Component List
Wave I Additions
These components are not reflected in the main component list below and include new pilots released as part of Wave I:
T-65 X-Wing Pilots

Front/back combinations

Thane Kyrell / Thane Kyrell

BTL-A4 Y-Wing Pilots

Front/back combinations

Norra Wexley / Norra Wexley
Evaan Verlaine / Evaan Verlaine
Pilots
Ship tokens are dual sided and have the front/back combinations listed after each pilot list.
T-65 X-Wing Pilots

Front/back combinations

Biggs Darklighter / Blue Squadron Escort
Garven Dreis / Blue Squadron Escort
Wedge Antilles / Red Squadron Veteran
Red Squadron Veteran / Blue Squadron Escort

BTL-A4 Y-Wing Pilots

Front/back combinations

"Dutch" Vander / Gold Squadron Veteran
Horton Salm / Gray Squadron Bomber
Gray Squadron Bomber / Gold Squadron Veteran

RZ-1 A-Wing Pilots

Front/back combinations

Arvel Crynyd / Phoenix Squadron Pilot
Jake Farrell / Green Squadron Pilot
Green Squadron Pilot / Phoenix Squadron Pilot

A/SF-01 B-Wing Pilots

Front/back combinations

Braylen Stramm / Blade Squadron Veteran
Ten Numb / Blue Squadron Pilot
Blue Squadron Pilot / Blade Squadron Veteran

Z-95-AF4 Headhunter Pilots

Front/back combinations

Airen Cracken / Tala Squadron Pilot
Lieutenant Blount / Bandit Squadron Pilot
Tala Squadron Pilot / Bandit Squadron Pilot
Tala Squadron Pilot / Bandit Squadron Pilot

Auzituck Gunship Pilots

Front/back combinations

Lowhhrick / Kashyyyk Defender
Wulffwarro / Kashyyyk Defender

Attack Shuttle Pilots

Front/back combinations

Hera Syndula / Ezra Bridger
Sabine Wren / "Zeb" Orrelios

Sheathipede-Class Shuttle Pilots

Front/back combinations

Ezra Bridger / Fenn Rau
"Zeb" Orrelios / AP-5

HWK-290 Pilots

Front/back combinations

Jan Ors / Rebel Scout
Kyle Katarn / Rebel Scout
Roark Garnet / Rebel Scout

TIE/ln Fighter Pilots

Front/back combinations

Captain Rex / "Zeb" Orrelios
Sabine Wren / Ezra Bridger

E-Wing Pilots

Front/back combinations

Corran Horn / Rogue Squadron Escort
Gavin Darklighter / Knave Squadron Escort
Rogue Squadron Escort / Knave Squadron Escort

UT-60D U-Wing Pilots

Front/back combinations

Bodhi Rook / Heff Tobber
Cassian Andor / Blue Squadron Scout

BTL-S8 K-Wing Pilots

Front/back combinations

Esege Tuketu / Warden Squadron Pilot
Miranda Doni / Warden Squadron Pilot

ARC-170 Pilots

Front/back combinations

Garven Dreis / Norra Wexley
Ibtisam / Shara Bey

Modified YT-1300 Pilots

Front/back combinations

Han Solo / Chewbacca
Lando Calrissian / Outer Rim Smuggler

VCX-100 Pilots

Front/back combinations

"Chopper" / Hera Syndulla
Kanan Jarrus / Lothal Rebel

YT-2400 Pilots

Front/back combinations

Dash Rendar / Wild Space Fringer
"Leebo" / Wild Space Fringer
Upgrades
Talents

Sensors

Crew

Gunners

Astromechs




Illicit

Cannons

Turrets

Torpedoes

Missiles

Devices

Titles

Configurations

Modifications

Conditions
Plastic
Medium Plastic Bases (x4)
Medium Plastic Pegs (x4)
Tokens
Ship Tokens (x43)
Dials (x37)
Dial ID Tokens (x23) See below for breakdown
Calculate Tokens (x3)
Disarm Tokens (x2)
Jam Tokens (x2)
Tractor Tokens (x2)
Reinforce Tokens (x2)
Cloak Token
Standard Charge Markers (x5)
Force Charge Markers (x4)
Condition Markers (x2)
Small Single Turret Arc Indicators (x4)
Medium/Large Single Turret Arc Indicators (x2)
Medium/Large Double Turret Arc Indicators (x2)
Dial ID Tokens
The 23 Dial ID tokens are broken down as follows:
2 A/SF-01 B-Wing
2 BTL-A4 Y-Wing
2 BTL-S8 K-Wing
2 E-Wing
2 HWK-290
2 Modified YT-1300
3 RZ-1 A-Wing
2 T-65 X-Wing
2 YT-2400
4 Z-95-AF4 Headhunter
Links