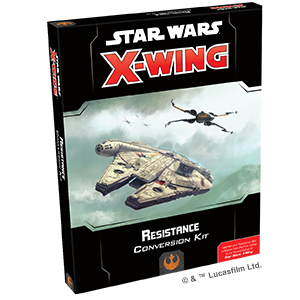 The Resistance is the only line of defense against the rising tide of the nefarious First Order. Like the Alliance to Restore the Republic before them, the pilots of the Resistance often find themselves outnumbered and outgunned. Fortunately, the Resistance has some of the most advanced starfighters from the entire Star Wars saga at their disposal. With the Resistance Conversion Kit, your First Edition versions of these ships can be added to your X-Wing Second Edition squadrons right away.
This kit contains everything you need to upgrade your Resistance ship collection from the First Edition to the Second Edition, including pilot cards, upgrade cards, and ship tokens. Amongst the new ship cards and tokens, you'll find new versions of Resistance heroes like Poe Dameron and Rey, each ready to bring their unique abilities to your custom-built squadrons. These pilots are complemented by over one-hundred upgrade cards that you can use to customize your squadron to fit your play style. Finally, this conversion kit gives you plenty of options for rounding out your Resistance squadrons, containing enough maneuver dials to convert three Resistance Bombers, three YT-1300s, and four T-70 X-wing fighters.
Components are provided for the following ships:
3 – MG-100 StarFortress
3 – Scavenged YT-1300
4 – T-70 X-wing Fighters
These components are not reflected in the main component list below and include new pilots released as part of Wave II:
Front/back combinations

Black Squadron Ace / Black Squadron Ace
Jaycris Tubbs / Jaycris Tubbs
Lieutenant Bastian / Lieutenant Bastian

Front/back combinations

Edon Kappehl / Edon Kappehl
Vennie / Vennie
Ship tokens are dual sided and have the front/back combinations listed after each pilot list.
Front/back combinations

Poe Dameron / Red Squadron Expert
Ello Asty / Red Squadron Expert
Nien Nunb / Red Squadron Expert
Kare Kun / Blue Squadron Rookie
Joph Seastriker / Blue Squadron Rookie
Temmin Wexley / Blue Squadron Rookie
Jessika Pava / Blue Squadron Rookie
Red Squadron Expert / Blue Squadron Rookie

Front/back combinations

Han Solo/Resistance Sympathizer
Rey/Resistance Sympathizer
Chewbacca/Resistance Sympathizer

MG-100 StarFortress Pilots

[

edit

|

edit source

]

Front/back combinations

Finch Dallow / Cobalt Squadron Bomber
Ben Teene / Cobalt Squadron Bomber
Cat / Cobalt Squadron Bomber
Calculate Tokens (x2)
Condition Markers (x2)
Dials (x10)
Dial ID Tokens (x4) See below for breakdown
Disarm Tokens (x4)
Evade Tokens (x6)
Focus Tokens (x2)
Force Charges (x4)
Ion Tokens (x4)
Jam Tokens (x3)
Medium/Large Double Turret Arc Indicators (x6)
Shield Tokens (x4)
Standard Charges (x13)
Tractor Tokens (x3)
The 4 Dial ID tokens are broken down as follows:
Community content is available under
CC-BY-SA
unless otherwise noted.