Publisher's Description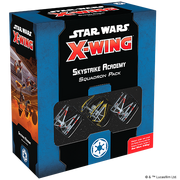 Add the staff and graduates of the Empire's most prestigious academy to your Imperial squadrons with the Skystrike Academy Squadron Pack for Star Wars: X-Wing! Academies throughout the Empire train the next generation of TIE pilots and Skystrike Academy's graduates are instilled with the skills and dedication necessary to maintain order in the galaxy.
This Squadron Pack includes talented and loyal pilots such as Vult Skerris and Ciena Ree, featuring new abilities and upgrades based on their appearances in Star Wars: Rebels and Lost Stars. In addition to these pilots, you'll also find one TIE/D Defender miniature and two TIE/in Interceptor miniatures featuring bold alternate paint schemes in this expansion, adding even more diversity to your Imperial squadrons!
In this expansion you'll find 10 TIE/in Interceptor ship cards and 5 TIE/D Defender ship cards, giving you even more pilots to choose from. Additionally, 35 upgrade cards invite you to further customize your Galactic Empire squadrons including new configuration cards for the ships and content for Epic play. To wrap things up, six Quick Build cards help you get these pilots and upgrades into the fight as fast as possible with convenient preset selections.
Included Components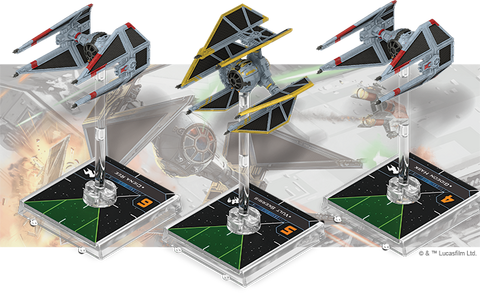 Ships
Pilots
TIE/in Interceptor
Ship tokens are dual sided and have the following front/back combinations:
•Ciena Ree/Alpha Squadron Pilot
•Vult Skerris/Saber Squadron Ace
•Commandant Goran/Saber Squadron Ace
•Gideon Hask/Alpha Squadron Pilot
•Lieutenant Lorrir/Saber Squadron Ace
•Nash Windrider/Alpha Squadron Pilot
TIE/D Defender
Ship tokens are dual sided and have the following front/back combinations:
•Darth Vader/•Darth Vader
•Vult Skerris/Onyx Squadron Ace
•Captain Dobbs/Delta Squadron Pilot
Upgrades
Command
Talent
Force
Sensor
Cannon
Missile
Modification
Configuration
Tokens
Charge Tokens (x6)
Critical Marker Token (x3)
Deplete Token
Evade Tokens (x3)
Focus Tokens (x3)
Force tokens (x3)
Ion Token
Jam Token
Shield Tokens (x5)
Strain Tokens (x2)
Stress Tokens (x3)
Tractor Tokens (x2)
ID Tokens #13 (x3)
ID Tokens #14 (x3)
Lock Tokens #13 (x2)
Lock Tokens #14 (x2)
Dial ID Token TIE/D Defender
Dial ID Tokens TIE/in Interceptor (x2)
TIE/D Defender Dial
TIE/in Interceptor Dials (x2)
Additional Components
Small Bases (x3)
Small Base Pegs (x6)
Community content is available under
CC-BY-SA
unless otherwise noted.