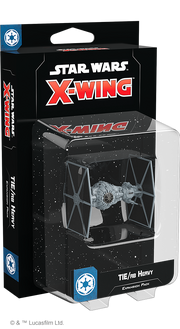 The TIE/rb Heavy is one of the largest TIE variants produced for the Galactic Empire and is often assigned to patrol routes where it is expected to fight without the support of a carrier or escorts. Thanks to its robust armor, swiveling laser cannons, and integrated MGK-300-series droid intelligence, this vessel lives up to its nickname: the "Brute."
The TIE/rb Heavy Expansion Pack includes everything you need to add one of these imposing ships to your Galactic Empire squadrons, beginning with a beautifully detailed, pre-painted miniature and a medium plastic base. Four ship cards give you the freedom to choose your pilot, while 12 upgrade cards invite you to customize your ship to fit your needs. Finally, two Quick Build cards offer helpful combinations of pilots and upgrades to get you into the fight right away.
Ship tokens are dual sided and have the following front/back combinations:
Two additional upgrade cards (12 total)
Calculate Tokens (x3)
Charge Tokens (x2)
Critical Hit Token
Focus Token (x2)
Reinforce Token
ID Token #13 (x3)
Lock Tokens #13 (x2)
Strain Tokens (x3)
Stress Token (x2)
Dial ID Token
TIE/rb Heavy Dial
Community content is available under
CC-BY-SA
unless otherwise noted.