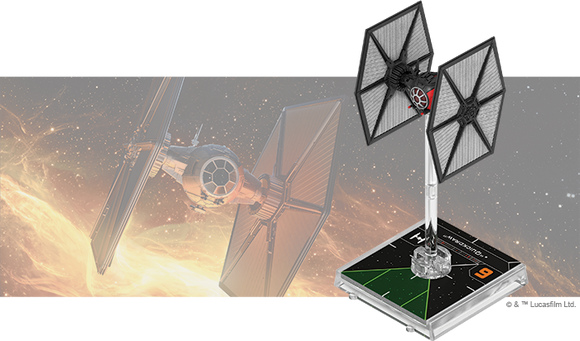 TIE/sf Fighter
Wpn
Agl
Hull
Shd
2 2
2
3
3
Actions
 ► 
 ► 
 ► 
 ► 
Size
S • 
Upgrade Slots

Ship Ability

Heavy Weapon Turret: You can rotate your indicator only to your or . You must treat the requirement of your equipped upgrades as .

Dial Code

Tsf

Maneuver Chart
The TIE/sf space superiority fighter was a starfighter model used by the First Order, a specialized version of the TIE/fo space superiority fighter. It was a two-seater unlike the previous TIE models, and was outfitted with enhanced weapons and sensor systems as well as hyperdrives and deflector shields. The TIE/sf was reserved for members of the First Order's elite Special Forces. On the lower side of the vehicle, directly below the primary fuel tank, was a turret containing a pair of heavy laser cannons and a mag-pulse warhead launcher.
read more
Available Through
Edit
Community content is available under
CC-BY-SA
unless otherwise noted.